Learn the Secrets to Healthy Living

After cancer, 14 years ago I healed myself with a holistic approach to health, using a blend of cutting-edge nutrition with Chinese Nutritional Therapy. My food synergy recipes offer you deeply balancing meals that taste delicious as they are high-dense nutritional value, helping to nurture both, your human cells and your microbial cells (your microbiota).


Anti-cancer Habits &
Anti-inflammatory Nutrition Book
I also share the Holistic Nutrition perspective in my book: Anti-cancer Habits & Anti-inflammatory Nutrition. My purpose with this book is to inspire and empower people to improve their nutrition and lifestyle habits. Are you feeling out of balance? Are you looking to improve your nutrition? Are you at risk of inflammation and chronic diseases like cancer? In this book I share my insights of 12 years of cancer and inflammation prevention, and how I used Holistic Nutrition and modern science to save my own life by improving nutrition, digestion and immunity.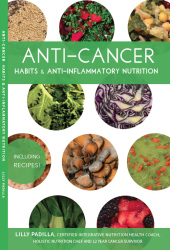 Order Your Copy Today!
https://www.createspace.com/5553140
We are NOT what we eat.

We are what we Digest and Assimilate! understanding how the body processes work together as a unit, and creating healthy eating habits to improve digestion is the first approach in Traditional Chinese Medicine and Ayurveda. Both ancient medicines believe that effective healing and balanced health depends on effective digestion-assimilation of nutrients. In my programs I also emphasize the value of eating pure, whole some foods which provides us with the essence of life for our cells and our micro biome.

Could one conversation change your life?

Schedule an initial consultation with me today!